Once again it's time for my incredibly presumptuous self-inflicted It's Nice That yearly review. I'm cutting it a little fine this year, with a little less than three hours to go before the end of the year, but here we go.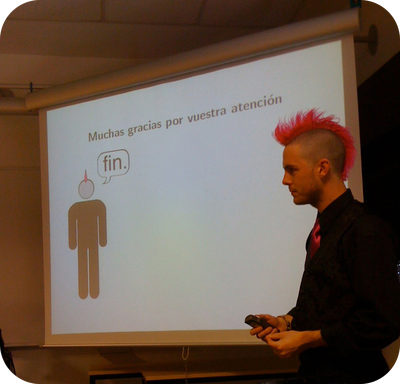 Mark of of 10 for 2010?
9. For various reasons, amongst them are the two masters theses that I completed this year, but at the front of the list is Andrea. It's not 10, because I don't believe in a perfect score.
What broke? How did you fix it?
My web-site broke, a number of times, I fixed it by first, taking Bruce's site offline (which was the original cause because it was running an old version of python) and then replacing both sites with WordPress blogs.
What was the best thing you saw this year?
The expression on my masters thesis directors face when I showed up to uni a couple of days before my defence with a pink mohawk – he had told me I needed more colour in my presentation.
What was your favourite day of the year?
The day Andrea and I went to see Maria Rodés live together, almost ruined by a volcano preventing me from flying back to Australia for Sally and Mike's wedding, but saved by a few hours searching for flights from cities in Europe not affected by volcanic ash clouds.
Most dangerous/scariest moment?
I have done nothing dangerous or scary all year, which is a bit sad really.
Best Google image search of the year?
'dragon ball carrer' in which my street (Carrer Progrés) shows up with our Festa de Gràcia decorations, which were awesome and deserved far better than 7th place.
Best man/woman of the year?
It's a bit sappy I know, but it could be no other person than Andrea.
Your finest moment?
Presenting my Computational Science and Engineering masters thesis with the afore mentioned pink mohawk (in the picture).
If you could only take one thing that you bought in 2010 into 2011, what would it be?
My nice (still kind of) new digital SLR, I can't think of anything else that I bought, and taking one green shoe won't do me a lot of good.
What would you like to say to 2010?
So long and thanks for all the fish.