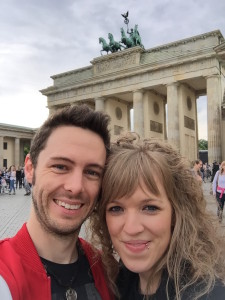 We're reaching the end of another year, and so it's time for my annual wrap-up. This post is also making up for how little I've updated voo-du in the last year. I will try to do better next year.
The year started with lots of work. While I defended my Ph.D. in December last year, I still had classes to teach until the end of February (Algebra and Galois Theory), as well as writing up my thesis in the form of a journal article. The article is currently in review, a process that can take some time, but there is a pre-print available on arXiv.
Of course, as soon as the new year began, I also started working on the mobile game Spring Cat. This was a big project for me, as well as all the others who contributed the artwork, music, sound effects and ideas. I wrote the entire game myself, using the Cocos2d-x framework so that it would run on iOS and Android.
During all this time, Andrea and I were also job hunting. We had set our sites on Berlin as our next destination and spent most evenings looking for jobs, writing CVs, and applying for work.
Before the middle of the year, our hard work paid off. We packed up our apartment in Cerdanyola, shipped off a bunch of boxes, then filled our car with the rest and drove the 1800 Km from Barcelona to Berlin to arrive on the 1st of June.
I started working at HERE as a mobile application developer in the middle of June. By that time, Andrea had been offered a job at Uberall as a backend developer, starting in the middle of July.
The next 6 months passed quickly in a whirlwind of house hunting, moving, and then buying furniture. Andrea and I had lived in a furnished apartment in Barcelona, something which is particularly hard to find in Berlin. This meant that we've had to furnish our apartment completely.
We found a nice, brand new apartment in Prenzlauer Berg, one of the trendiest areas of Berlin and conveniently close to both our places of work. It's now mostly furnished and we're very happy with the result and comfortable in our new home.
We've even had a first visitors to our new apartment. Thea and Bruce visited us in September and Sonia and Toni visited (sans kids) in November. It's been great getting to know our new city with family, and we've already seen some great sites around Berlin.
As usual, we're passing Christmas in Granada with Andrea's family, a much needed holiday (something we haven't really had in the last year).
2015 has been an incredible year, full of changes and the beginning of a new, post-academic life for the both of us – and all in a new country! Of course, 2016 holds many more special events – events which I will do my best to write about in a timely fashion.