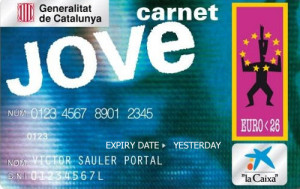 I'm in the unfortunately situation that my primary debit card expires in December. This can be problematic, since I'm usually in Granada with Andrea's family from Christmas until around the 6th of January.
Last time my card expired, two years ago, I ended up without a debit card for a week as the bank seemed to lose the first replacement card that was sent. This is especially bad timing, since in Spain Christmas gifts are given on Three Kings Day, the 6th of January, so the first week of January is prime present buying time.
So, this time I was more prepared.
At the beginning of December I went to the bank and spoke to a bank teller who looks strangely like a younger version of the last spanish president, José Luis Rodríguez Zapatero (pictured). Maybe it was his nephew or something.
explained that my debit card was expiring at the end of the month and that I'd be away for two weeks from the 23rd of December. I asked them to order a new card for me now, so that it would arrive before I left. I was told the card would be ready the following Thursday.
So, the following Thursday evening I went to the bank and collected my new card. As I did, I asked if I could start using the new card now, or if I had to wait until January when the old one had expired. The lady at the bank looked at the card and then told me that this card had the same expiry date as the old card. It turns out that Zapatero's nephew had ordered a duplicate card, and not a renewal of the card.
In disbelief I asked why I would want a duplicate of a card that was due to expire in three weeks time, and asked if she could please order me a renewed card. I was then told that I couldn't have a renewal on that card, as it's only valid for people up to the age of 30.
I finally managed to convince the bank that I didn't care what specific sort of card I got, so long as I could use it to take money out and purchase things. I was told to return the following Thursday.
This evening I went back to the bank, at the same time as last week (the same time that anyone with a job goes to the bank if they need to), only to find it closed. The nice lady at the bank who has hopefully ordered me a debit card which will still be valid in 2 weeks time failed to mention that the bank wouldn't be open in the evening the following Thursday (most branches here are open on Thursday evenings, it's strange that it wasn't).
So, now I'm going to have to go back to the bank on Monday morning before Andrea and I leave for Granada and hope that this time they got the right card.