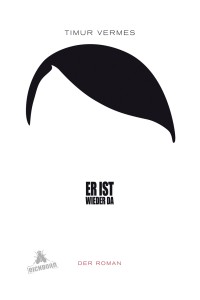 I just finished reading Er ist wieder da (English: He's returned, Spanish: Ha vuelto) by Timur Vermes. It follows Adolf Hitler, who awakes in a back alley of Berlin in 2011, with no memory of his death or the intervening years. I liked the premise and although the book never really grabbed me, there were some great comedy moments.
It was recommended to me by one of the guys in the department I visited in Paderborn last year. The cover is a fantastic piece of graphic design.
Although it's a German book, I read it in Spanish, my German isn't that good. The English translation comes out later this year with the title Look who's back.