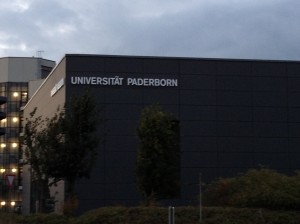 Well, to top off my busy month, and get this site to within a week of current events, I'm now in Paderborn. I'll be here at the Universität Paderborn for the next four months doing a research stay as part of my PhD.
I'm with the Computer Algebra and Number Theory research group, studying, getting to know everyone here and trying to improve my German while I'm at it.
Ever since I studied German at school I've wanted to spend some time living in Germany and gaining a better grasp of the language. So including it as part of my PhD seemed like a great idea.
So far it's been fantastic. I'm sitting in on a graduate level course on number theory and I'll be starting a German course next week as well, so I'm keeping busy. Everyone I've met in the mathematics department has been very friendly and I'm doing my best to speak only German – although that's not always the case, I hope to improve.